"Me and Earl and the Dying Girl": A Film Review
 "It was the best of times, and the worst of times," according to the classic beginning of A Tale of Two Cities. But that memorable introduction also applies to the 2015 Sundance Award-winning film, Me and Earl and the Dying Girl.
I never truly appreciated the idea of friendship, nor acknowledged how crucial it is to have a best friend around. When I watched movies, I always sought out some romantic, corny, heart-breaking films to watch and waste a ton of tissues on, movies that would inevitably lead me to feel pity and sympathy for the main character while also thinking of my own high school crushes and those periods of insufferable, endlessly pathetic pining. I had a neat definition of love, and it was the romantic/sexual kind, which, to me, totally took priority over non-amorous/platonic relationships with the outside world. Initially, the fact that Me and Earl and the Dying Girl turned out to not be a love story actually let me down (being a kind of silly, romance-obsessed person), but what the movie showed to me during its 105-minute runtime changed my view of things and left me eager to watch it again.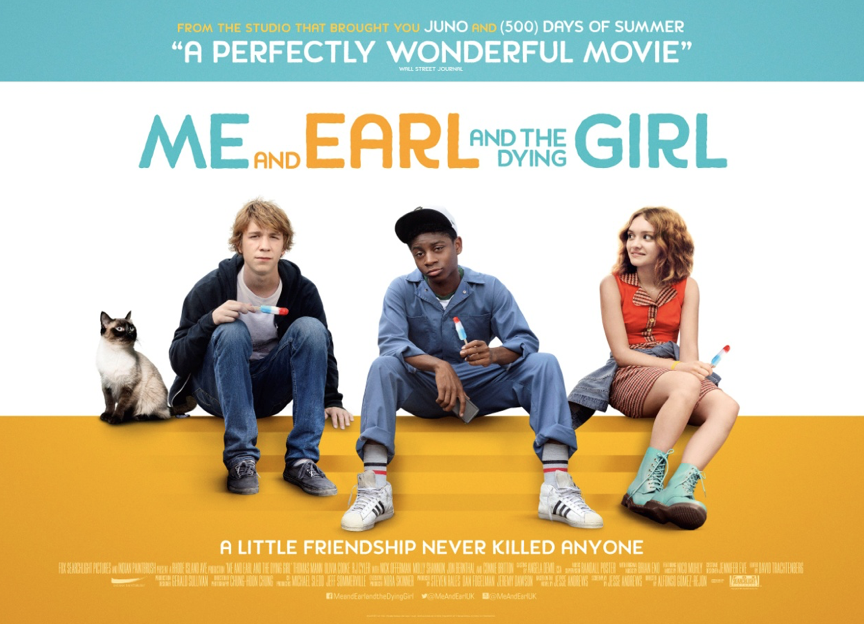 Based on the popular young-adult novel of the same name, written by Jesse Andrews, this adaptation is brilliantly directed by Alfonso Gomez-Rejon, with a screenplay also written by Mr. Andrews. Me and Earl and the Dying Girl is a quasi-melodrama, but its many moments of levity keep it from being a consistent tear-jerker. It expertly highlights the power of friendship, and brings attention to the paper-thin line between life and death that constantly plagues us as we move through the world.
The lead character is Greg, an introverted, sarcastic high school student. He has a firm belief that in order to survive, you have to blend in, avoid getting too close with your peers and not make any serious enemies. He's also highly self-underestimated, overly humble and trying his hardest to make himself invisible. As a flawed and deeply human character, Greg's very relatable: I could see some parts of myself in him, which of course drew my attention right away. Greg also has a friend he has known since kindergarten, the titular Earl, but Greg wants to label Earl his "co-worker" rather than brother or best friend. Earl Jackson is a gangly kid from the "bad side of the town," and as such can be uncouth by good-side-of-town standards, but he's also very funny (his crisp and stoned-face delivery of the word "titties" never fails to make me laugh). Greg and Earl have the same passion for classic films, and they decided to make their own parody movies based on the original films, with ridiculous titles like "Eyes Wide Butt," "The Turd Man" and "Sockwork Orange" (a film about socks and orange juice). The thing I like about this particular, peculiar friendship is their interesting dynamic, and how they continue creating these parody films, even though they both assume that the movies are boring and suck—although afterwards, from the view of a spectator, their silly work is actually not as awful or shameful as they think.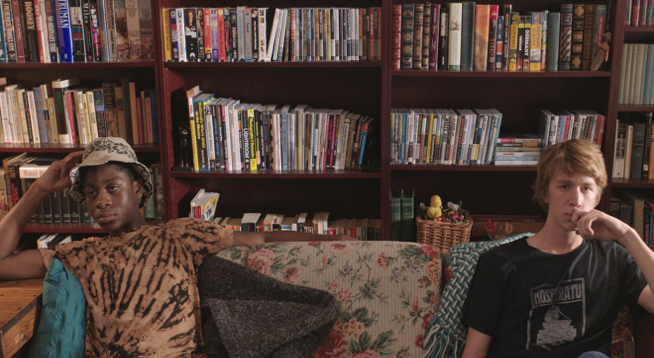 And the crucial character of the film (the "dying girl" from the title) is Greg's classmate and former childhood friend, Rachel. She has been dignosed with leukemia, so Greg's parents insist that he hang out with Rachel and cheer her up. Getting reaquainted with Rachel actually begins a new phase in Greg's life. He starts caring, opening up, sharing things with Rachel and joking with her ( "Yo, so I called the doctor. He said you needed a prescription of Greg-acil," said Greg during his first phone call with Rachel). The way their "doomed friendship" grows and blossoms basically amazes me. There's a feeling of unfairness about it all: how something beautiful has to be put in a tough situation like this. It's emphazied as we see Rachel lose her hair, and change from a strong, positive girl into a sad, vulnerable, hopelessly sick girl, a transformation that brings tension to her relationship with Greg.
Greg's whole plan on the senior prom night is my favorite part of the movie, and the resulting scene is unforgettable: Greg shows up at the hospital in a nice suit, and gives Rachel—ill and pale in her hospital bed—a corsage. Then they lie beside each other to watch the film he made for Rachel. It was a haunting, emotional moment, and watching as Rachel watched Greg's film—never taking her tearful, wide-opened eyes off the screen—was almost painful.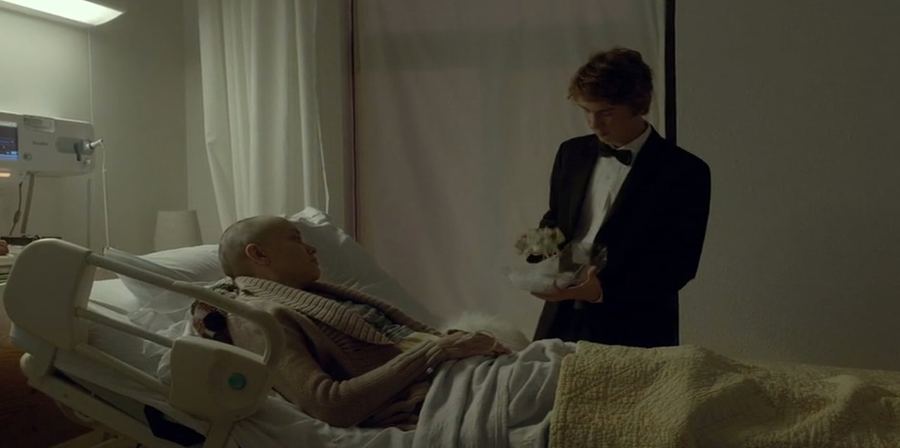 The death of Rachel hits hard, even though audience have been warned of it from the beginning. Greg had told himself throughout the course of the film that Rachel wouldn't die, Rachel would make it though, and denied the inevitable. He knew, of course, that this wasn't the truth, but just could not let himself accept the facts—which is devastating. Through the harsh reality of Rachel's death, the movie shifts from quirky and comedic to tragic, and ultimately bittersweet.
At the end, Greg comes to realize how important friendship really is, and to not take it for granted in the future—a worthy message that really made me think.
If you haven't watched Me and Earl and the Dying Girl yet, I highly recommend you give it a try. Though some skeptical viewers may write it off as being full of clichés or overly sappy, I think it's funny, poignant, and relatable. Trust me when I say that, like a great friend, this film won't let you down.